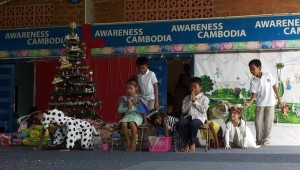 Our House of Progress Manager, Vanna Nheb, put together a wonderful celebration concert which was hosted by Pisey and Samnang – two of our Graduation House   students. The program was jam-packed with singing, traditional Khmer dances, a Christmas nativity play, dancing and much more, making sure that all of our children and students were able to take part in the festivities. The highlight for me was seeing the young girls (8-9 years old) from Sunshine House performing their first official Khmer traditional dance – all dressed up with make-up, their hair done and wearing traditional outfits. They were super-cute AND did a great job.
After the concert came the gift-giv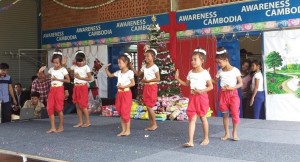 ing, which, of course, was a highlight for staff and students alike (who doesn't like presents?). Lunch followed shortly after with an incredible and very delicious spread prepared by the
Sunshine House and House of Progress staff. And let me tell you, it was truly a feast fit for a king!
Our thanks go to not only our amazing staff who made our Christmas Party a great success, but also to our generous donors, without whose support the celebration would not have been possible. I have no doubt that this special day has created wonderful memories for all of our children and students – for which we thank you.