West Coast Eagles visit Awareness Cambodia – a short video
Join our Business Adoption Programme
Awareness Cambodia's Business Adoption programme introduces a fresh medium for businesses and corporate leaders to help in the developing world.
If equality and protection of the innocent is something your business values, become a member of Awareness Cambodia's Business Adoption programme.
Involve Your Employees:  There are many ways your employees can get involved
Payroll giving :  Encourage your employees to donate to Awareness Cambodia through their payroll. Your company can further recognize their contribution by matching the amount they give. 
Events:  Why not enter a team of employees into a fun run or create your own fundraiser.  A great way to get your staff excited is to match their fundraising efforts.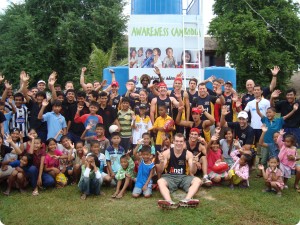 Send a team to Cambodia and involve yourself on the deck
We are able to facilitate a few corporate team visits each year.  Why simply read the results of your support in the pages of a report when you can see it first-hand on the face of a child!
Examples of current corporate teams impacting the community alongside Awareness Cambodia through cross cultural relationships are the West Coast Eagles, Azure and Chauvel Groups.
Sponsor a capital works program:  Why not sponsor one of capital works programs in Cambodia, or forge a relationship between your brand and ours?
By sponsoring us you will demonstrate your company's values as a corporate citizen by giving back.
To find out more about becoming a Corporate Partner please email [email protected] and we'll be in touch as soon as possible: