In response to seeing vulnerable young children being exploited, we established the first of our child development projects – Sunshine House – in 2000.
By 2006, House of Progress was up and running. Here students completed their upper high school education, developed life skills and prepared for a tertiary education.
And in 2009 the first group of children to come into our care took the final step in their education journey – moving to Graduation House in Phnom Penh to commence   university studies.
Today, the children in our child development programs are joining a growing number of healthy young adults who take up and complete university degrees in fields such as civil engineering, design, architecture, accountancy, tourism and hospitality, medicine, English literature, business and economics.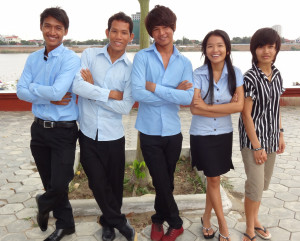 And our education emphasis doesn't stop there – extending into the Kompong Speu community (one of Cambodia's poorest provinces).
Our medical program – Operation Nightingale – operates seven medical centres that provide primary health care to the local community. We employ highly trained Cambodian doctors (with international post-graduate degrees and ongoing annual mentoring from Australian medical professionals) to provide medical care and vital health education.
Through our community education programs, we continue to link education programs and educators (including the Western Australian Department of Education and Training) to 20 local schools. In addition, our programs and giving opportunities enable individuals, businesses, schools and other organisations to play a role in helping to provide education services to the community.
These programs were introduced against a backdrop of only 1 in 10 girls making it to Year 8 and only 4 in a 100 girls going on to years 11 and 12. Sadly, in many parts of Cambodia, especially rural areas, the idea that education is unnecessary for girls remains. And this, when also coupled with generational poverty and a lack of basic services in schools, prevents girls from continuing their schooling. The average rural Cambodian school has 600-800 children, no running water or toilets, and can't afford books and stationery.
Instead of ignoring these facts, we saw an incredible opportunity for people in privileged positions like ours to bring about real change. So we made a commitment to put basics, such as toilets and running water, into government schools. We also run English Second Language courses at the government schools for some 500 children in years 4, 5 and 6, providing them with the essential language skills they will need to take advantage of the high school curriculum. And through our 'Case for Change' program local children are given a backpack and school supplies.   While our 'giving' options also take an education focus, allowing generous supporters to provide everything from art supplies to a music teacher to enhance the education journey of underprivileged children.
Recognising the potential education has to alleviate poverty amongst Cambodia's poorest, we introduced a scholarship program to enable students from underprivileged backgrounds to complete medical and agriculture-related studies at university. By taking part in these scholarships, the students develop the capacity to effectively contribute to programs, projects and services that can contribute to their country's productivity and social development.
All of these programs have been launched with a firm conviction that EDUCATION is powerful and a basic human right. It is through education that Cambodia's most vulnerable will be empowered and play a part in the future of their country.