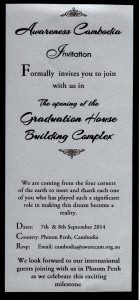 Graduation House is the final step in the education journey for our students and scholarship recipients – a place where students can stay and be cared for while they complete their tertiary or vocational studies.
We're all proud of what we have been able to achieve over the last 18 years and the new building is a great testament to this. But we would not have been able to realise this dream if not for the incredible commitment from our Awareness Cambodia team, the support of our Cambodian networks, the generosity of our local and international partners, and of course the guidance of numerous Cambodian government departments and their representatives.
We look forward to you joining us in Phnom Penh for the grand opening. If you would like to attend, please rsvp to [email protected] and we will ensure you receive all relevant information.