Brenda Au – is a nurse and Health Manger at Sunshine House.  Brenda, who lives at Sunshine House with her husband Paul and three children, is our longest-serving volunteer.  With a desire to make a difference, Brenda moved from her homeland in Ireland to Cambodia and since January 2003 she has nursed children with HIV, mended broken bones and provided TB and hepatitis treatment for the new arrivals at Sunshine House.  In short, Brenda is a loved and treasured member of our team.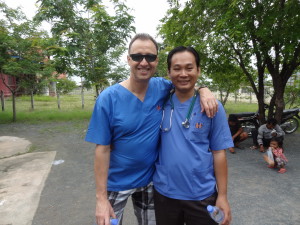 Dr Piseth –is a medical doctor who has volunteered at our Operation Nightingale clinics since 2006 (when the program started).  In 2010, Gary was asked by Dr Piseth's wife to speak to postgrad uni students about our work and volunteering. Soon afterwards Dr Piseth contacted us and became our first Cambodian volunteer.  Providing invaluable health care at our medical clinics, Dr Piseth continues to make a huge difference to the lives of the rural poor.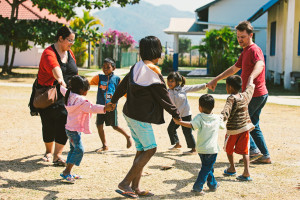 Trudy and Tim James – are a Perth couple who packed up their belongings and headed to Cambodia to volunteer full-time with Awareness Cambodia in December 2011.  In only three years they have learned to speak Khmer and can drive motorbikes and cars along the chaotic Phnom Penh streets just like the locals! Much-loved team members within our Phnom Penh office, Trudy and Tim are currently in Perth awaiting the arrival of their first child.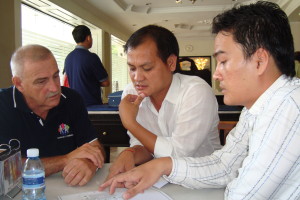 David Phipps –was sitting in the audience listening to Gary speak at a charity golf day in 2008. Inspired by what he heard, the retired engineer decided to visit Cambodia and see for himself the work we were doing. When he heard about our desire to build Graduation House he not only offered up his skills and gave us a donation to get the project off the ground, he took on the massive task of overseeing the construction of the complex himself. Every curve ball, problem and challenge has been sorted by David with grace and expertise.  He has contributed endless hours of his time and regularly travels to Cambodia (using his own funds) to keep an eye on building progress.  It's fair to say that without Dave's drive, expertise and commitment, the building complex would not be what it is today.
Awareness Cambodia isn't government funded and we rely on donations from mums and dads, schools, churches and corporations to help us realise our goal of rebuilding Cambodia's children.
Our volunteers allow us to do so much for so little. They are the heart and soul of Awareness Cambodia and help us to change children's lives through empowerment, education and opportunity.