I had travelled to Cambodia four times prior to this trip, but this one was very different, as we had chosen a trip to Cambodia to celebrate our 40th wedding anniversary.I love the "life" that we saw on the streets. It is as if you can observe life happening out in the open. You see people cooking, eating their meals, squatting and chatting, checking hair for lice, sleeping on the sidewalk, bringing their livestock into town, children playing and all on the streets.
Traffic is hilarious. If your lane of traffic is not moving, you just create another one, even if it is on the sidewalk!! We saw a "Cambodian" version of road rage. A moto driver, who had been weaving dangerously in and out of traffic, was clipped across the ears by another moto driver just to let him know it wasn't appreciated.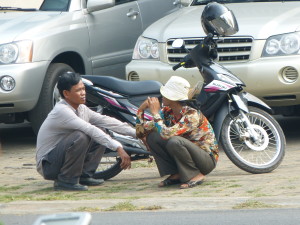 We spent a month in Cambodia, spending time in Siem Riep, Battambang, Phnom Penh, Sihanoukville, Kampot and Kep. There was so much to see and do. We chose to visit the "Kingdom of wonder" for many reasons: adventures; elephant rides; a quad bike tour of villages and rice paddies around Siem Riep; extreme buggy adventures in Sihanoukville; the Bamboo railway in Battambang; and a twilight Mekong River cruise in Phnom Penh. But, importantly, we sponsor two girls – Panina and Vatey – through Awareness Cambodia and we had never met them. We had both visited Awareness Cambodia's projects in the past, but not since we had become sponsors. We couldn't wait to go to Sunshine House  and meet the girls. On our way to Kampong Speu we stopped and bought morning tea for the children – brioche with condensed milk poured into the centre!! A favourite treat apparently.
When we arrived at Sunshine House, Panina was at the gate. We were moved by the sight of this little girl all dressed up to meet us. Both girls were introduced to us. Panina was so much more reserved than the lively, 3-year-old Vatey. We had lunch with them, sat with them and showed them photos on our camera. Sponsorship for us is a long-term commitment. We loved the girls even before meeting them, but this experience has deepened the place that they hold in our hearts. We communicated with gestures, photos and cuddles and, when necessary, the staff was there to translate for us.
Time with the girls was the highlight of our month-long anniversary celebration.
We also stopped in town and visited the young people at the House of Progress , Awareness Cambodia's upper school students' home. It was great to see them, as when I had last visited Cambodia they were the children at Sunshine House and now they seemed like typical teenagers anywhere. I loved seeing the soccer trophies they had won, as it indicated a healthy competitiveness. Seeing these children succeed in life brings us a lot of joy.
Upon returning to Australia we had a photo of the girls and us put on canvas and it is hanging in our lounge in a central position.
We were sad to leave Cambodia, but it was time to go home and get back to work and dream of our next trip. It was a celebration that we will always remember.
Become a child sponsor or learn more.