Have you ever thought about volunteering overseas? I have volunteered on the Awareness Cambodian Medical Team for the past 4 years (considering number 5 this year)
There is also a Maintenance team who work on whatever projects have been set for Sunshine House for that year. For example, the last couple of years has been water filtration, plumbing, painting, repairs, etc.
I'm not denying that it's hard work – because IT IS! The days can be long & tiring. The work can be hard, hot and sweaty in the heat and humidity. Convinced you yet?!
In regards to the medical team, over the years we have seen some really sad cases which affect us all in some way and yes you cry a few tears because some things are just so heartbreaking and out of our control. It also makes you realise how lucky we are here in Australia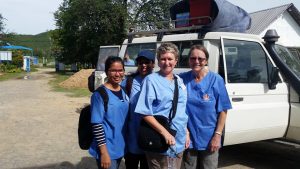 But what makes me go back is not just providing primary health care to the people in the remote villages, it is also about working with and mentoring the Cambodian Medical team. These include student and trained nurses as well as medical and pharmacy students. They are a group of amazing, dedicated people who want to provide healthcare to their own people. I've seen the personal and professional development of those who have been on the team in previous years. For me, the aim is that one day they will not need us.
The other reason I go is because of the friendships (new and old) developed and still continue to this day (Cambodian, Australian & other nationalities), the team work, the camaraderie, the laughs and sometimes the tears.
This is my "Awareness Cambodian family". ?