Born in rural Cambodia, Lork is the 5th child of six siblings. His mother died when he was 13 years old,  leaving his father – a farmer who has struggled physically since losing his left arm during the Khmer Rouge's reign of terror – to raise the children.
After remarrying, Lork's father started a new family.  As is common in Cambodia, the children of the first wife or husband are often not welcome in the new family. Cast out, Lork and his siblings struggled to survive and were forced to leave their homeland to find work so that they could not only live but also contin
ue their studies, which, even at their tender ages, they knew was important for their futures.
As a 9th grader, Lork remembers being asked: What is your dream?  Without hesitation he declared: "I want to be a doctor".  He successfully passed his lower school exams but had no way of being able to continue to study at high school.
As he had heard there wa s a good government school in Siem Reap, Lork decided to move to the city, as he was sure he could find employment to support himself while he studied in upper school. Fortunately, he found a job where he could work half a day and continue his high school studies in the afternoons. Lork was alone during this time and was lonely without his siblings around him, but he knew the sacrifice would be worth it if he studied hard and strived towards his dream to study medicine.
Due to his diligence he was rewarded by coming 1st in his class and being named one of the top students for mathematics and chemistry in his province. Two months later he passed the national examination for medical school entrance in Phnom Penh. With more than 4000 applicants and only 360 places to be filled, Lork's selection meant his dream was about to begin.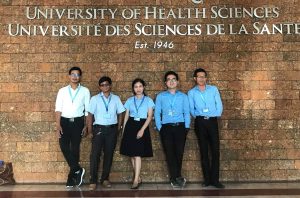 In January 2016, Lork was awarded an Awareness Cambodia scholarship, which provides his tuition fees and a nurturing home at Graduation House. Today Lork is in his 7th year studying medicine at the University of Health Science in Phnom Penh and is incredibly grateful to Awareness Cambodia for making this dream come true.
Loved by all, Lork is a delight to have around Graduation House, where he is thriving.  Instilled with a desire to help others and 'pay it forward', he volunteers at local hospitals and is always helping the other students with their studies.  Lork has just been accepted into a medical specialty program and will continue his scholarship with Awareness Cambodia.